Jumpstart your Nursing Informatics journey by learning insights and specialty insider secrets from an experienced Informatics Nurse!

What's Inside the ebook?
 Chapter 1: Job Title vs Role
Learn the difference between job titles and roles in Nursing Informatics.
Chapter 2: Nursing Informatics Roles
Discover The Nursing Informatics Roles Ladder and get ideas how you might be able to enter into this specialty.
This never-before-seen career ladder illustration also offers you glimpse of a roadmap for future career growth!
Chapter 3: Entry-Level Roles
If you've ever wondered how and where you should start in your Nursing Informatics career journey, this chapter has answers for you!
Full of practical, easy-to-understand tips and real-world examples.  
This chapter clearly explains general responsibilities, key tasks, and how you may be able to start learning basic and intermediate transferable skills that will help you prepare for Nursing Informatics roles – often even while you are still at your current job.
Chapter 4: What's Next
After you've read the previous chapters, this chapter concisely gives you tips on how to use your deeper knowledge of Nursing Informatics roles as you begin your Nursing Informatics journey.
Chapter 5: Resources
This chapter includes links to online mini-courses that will help you with the next steps including how to start job-hunting for Nursing Informatics positions in a more systematic way, how to learn 10 specific skills that are used by many Informatics Nurses, and how to fix common mistakes in Nursing Informatics resumes. 
You will have the opportunity to purchase these mini-courses from inside the ebook at deeply discounted rates for a limited time. 
These courses are usually available only inside one of my premium programs –  don't miss this chance to get them at a special discount from the links in the ebook.
A complete, accurate, and timely ebook for nurses who want to expand their knowledge, gain skills, and positive attitude towards the power of data and it's impact in patient care, billing, quality, and research to develop best practice and standard workflow.
This ebook is a guide, a blueprint, a must read!
Joyce Nacario
I really enjoyed reading your ebook. Thank you again for the discount on it. The book helped me understand the different roles of nursing informatics better and helped me figure out which area I want to focus getting into and gaining prior experience in. It's an easy read and I was able to understand it.
I am very interested in taking some of the mini online courses you'll be doing! And I'm going to try asking my manager if I can volunteer for chart auditing 🙂
thank you again for the guidance you've provided in this book. It made it feel a little less overwhelming trying to figure out where to begin when getting into the field.
Samantha Smith
The book has great information. I wish I had this info when I was looking for a Nursing Informatics role a few years back. It would have helped me identify job postings related to NI and understand the roles better to help me ace my interviews. Very good resource for those just starting out or wanting to enter the field.
Charlotte
Are you a seasoned Nurse who is seriously considering a career in Nursing Informatics? Are you looking for real-world, practical, no-nonsense methods to achieve this goal?
"I can't work in Nursing Informatics without a Master's degree".
"Even now that I have a Master's degree in Nursing Informatics, I still don't know where to start".
"I know I can do the job, I just need some practical guidance about what to do first".
"I just can't find any Nursing Informatics jobs in my city".
"Hiring managers are only looking for nurses with experience, but how can I get experience if no one will hire me?"
Not just with theories but with real-world examples from the trenches.
Not just with concepts but concrete action steps that you can take immediately.
Fatima Sharon Gatela
MBA, BSN, RN-BC
American Nurses Credentialing Center (ANCC) Board-certified in Informatics Nursing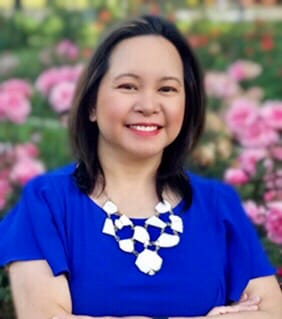 ...so that you can start getting ready to launch your Nursing Informatics career, starting from where and who you are as a clinician.
Eleven years ago, I was a bedside nurse. 
I was working in a great hospital with wonderful co-workers.
Yet, I felt that I wanted to do something different – something more in line with my skills, interests, and natural strengths.
I wanted to become an Informatics Nurse.
I believed that I could truly make a valuable contribution to patients, other clinicians, and the Nursing profession in this specialty – if only I was given the chance.
The problem was, I just didn't know where or how to start.
Then I took the first step, and began an amazing journey that surpassed even my own imagination.
Since then, I've worked as:
Are you ready to take the
FIRST STEP

in

YOUR

journey?
If you are, I invite you to the Nursing Informatics Now 3.0 webinar with LIVE Q&A!
If you missed the September 17th webinar, sign up for the waitlist by sending an email to info@theinformaticsnurse.com with the Subject: "March 2023 Webinar Waitlist". 
We will send you an email with the webinar registration details a few days before the general announcement.
In the meantime, follow me on Instagram @theinformaticsnurse for more tips.  See you soon!  
At the Webinar, you will learn about:
When you register, you will have access to:
I believe in doing work that has meaning, and makes a difference in other people's lives. That is why I put a lot of value in my training program and services. There are obviously no guarantees that you will get the same results as I did because that depends in part on your ability and other factors that I have no direct control over. I'm here to give you the best TOOLS possible to help you get on the optimal path, but at the end of the day these are just tools…YOU need to use them to get the results you want. Please remember that nothing on this page or any of my training materials, posts, or emails is a promise of earnings or a guarantee of results.