FREE Webinar with LIVE Q&A
March 11, 2023 at 5 pm Pacific Time (7 pm Central | 8 pm Eastern)
Are you a seasoned Nurse who is seriously considering a career in Nursing Informatics? Are you looking for real-world, practical, no-nonsense methods to achieve this goal?
"I can't work in Nursing Informatics without a Master's degree".
"Even now that I have a Master's degree in Nursing Informatics, I still don't know where to start".
"I know I can do the job, I just need some practical guidance about what to do first".
"I just can't find any Nursing Informatics jobs in my city".
"Hiring managers are only looking for nurses with experience, but how can I get experience if no one will hire me?"
Not just with theories but with real-world examples from the trenches.
Not just with concepts but concrete action steps that you can take immediately.
Fatima Sharon Gatela
MBA, BSN, RN-BC
American Nurses Credentialing Center (ANCC) Board-certified in Informatics Nursing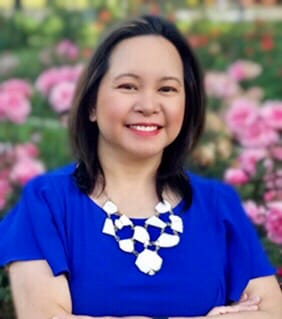 ...so that you can start getting ready to launch your Nursing Informatics career, starting from where and who you are as a clinician.
Eleven years ago, I was a bedside nurse. 
I was working in a great hospital with wonderful co-workers.
Yet, I felt that I wanted to do something different – something more in line with my skills, interests, and natural strengths.
I wanted to become an Informatics Nurse.
I believed that I could truly make a valuable contribution to patients, other clinicians, and the Nursing profession in this specialty – if only I was given the chance.
The problem was, I just didn't know where or how to start.
Then I took the first step, and began an amazing journey that surpassed even my own imagination.
Since then, I've worked as:
Are you ready to take the
FIRST STEP

in

YOUR

journey?
If you are, I invite you to the Nursing Informatics Now 3.0 webinar with LIVE Q&A!
If you missed the September 17th webinar, sign up for the waitlist by sending an email to info@theinformaticsnurse.com with the Subject: "March 2023 Webinar Waitlist". 
We will send you an email with the webinar registration details a few days before the general announcement.
In the meantime, follow me on Instagram @theinformaticsnurse for more tips.  See you soon!  
At the Webinar, you will learn about:
When you register, you will have access to:
"My search for a nurse informatics position was a nineteen-month anguish-filled journey after I graduated with an MSN in informatics. I had a lot of initial interviews and panel interviews, albeit no offers. I was very close to enrolling in an FNP program due to the angst from many failed attempts, when I crossed paths with TheInformaticNurse. The weekly coaching seminars and exercises helped me discover myself, optimise my CV, arm me with interview strategies and talking points, and most importantly instill confidence, and perseverance towards my career goals. After another round of interviews, I had the unique problem of choosing one of the two job offers I received. I believe the knowledge gained with this coaching program monstrously augmented my qualities as a potential candidate."
"I wanted to say thank you for your time and commitment to help me during my informatics course! I thoroughly enjoyed learning from you and was very encouraged throughout the program. I can clearly see your passion and commitment to helping nurses develop their informatics career and am so glad I participated in this program. I now have an updated and focused resume, more knowledge and background about NI and the confidence and plan to continue to move forward -- all from your program, thank you! Feel free to use any of this as a testimonial for the program -- I highly recommend it! "
"I found Fatima's program to be very informative by helping me with my struggles to find my way into a future in nursing informatics. Fatima was fantastic. I was so pleased with the structure and focus of each session each week. Every session was actionable, and Fatima kept me accountable by assigning homework activities relating to nursing informatics. Fatima has taught me a tremendous amount of skills, techniques and has excellent resources for my career development and offered me with tools needed to find a job relating to nursing informatics. I highly recommend Fatima's Nursing Informatics Now group coaching program. She is an extraordinary life and career coach!"
I believe in doing work that has meaning, and makes a difference in other people's lives. That is why I put a lot of value in my training program and services. There are obviously no guarantees that you will get the same results as I did because that depends in part on your ability and other factors that I have no direct control over. I'm here to give you the best TOOLS possible to help you get on the optimal path, but at the end of the day these are just tools…YOU need to use them to get the results you want. Please remember that nothing on this page or any of my training materials, posts, or emails is a promise of earnings or a guarantee of results.